Touted as the next revolution in medical space, the blockchain technology in healthcare industry is not only expected to bring major changes in the segment but can also completely transform the way business operations are performed. With broad applications of blockchain already identified across many other industries, health service providers are soon to adopt novel, more secure approaches for activities like billing, transferring and managing customer data, tracking drug shipment and reinforcing the integrity of clinical studies.

 
A need for implementing blockchain technology in healthcare industry can be attributed to the rising consumption of services and increased development of new, innovative treatments. Accelerating growth of the pharma market in turn raises numerous risks, including cyberattacks, drug counterfeiting, insurance frauds and irregularity in clinical data. Undeniably, it is necessary to have a trusted platform for executing transactions which is accessible to all the parties involved, whether it is a healthcare provider, payer or the patient.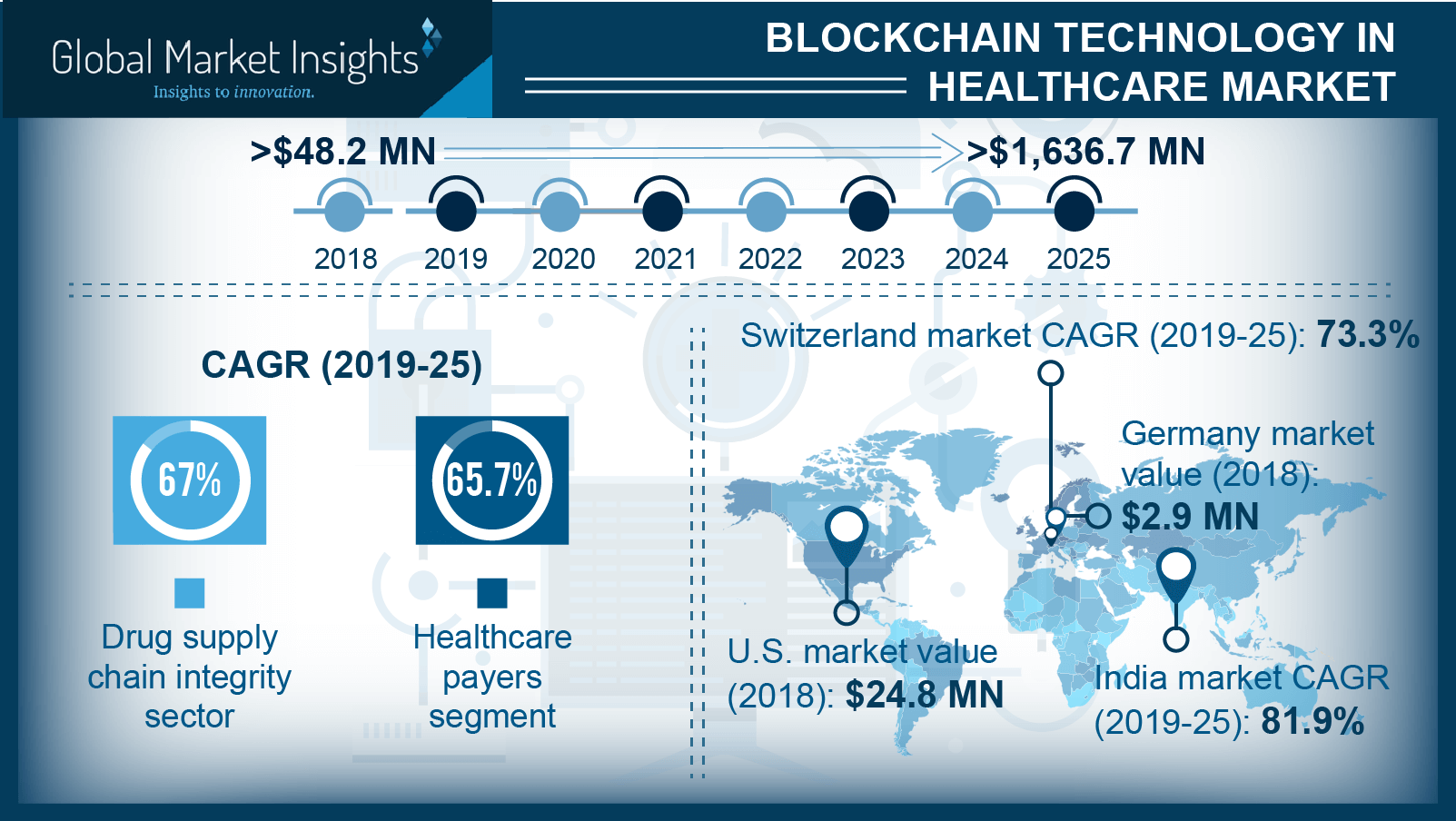 Blockchain is technically a decentralized ledger that can be used to record a transaction over multiple systems in a way that data cannot be altered or tampered, without having to change all subsequent blocks. Therefore, it allows only authorized modifications and is deemed to be one of the most secure platforms being deployed across global markets. Blockchain technology in healthcare industry would also help in lowering cost of operations, owing to less involvement of middlemen to make guarantees and elimination of unnecessary documentations to access immutable data. Blockchain can enable more efficient and faster completion of transactions, with automated processes and the absence of multiple ledgers that need to be reconciled.
Essentially, the blockchain technology in healthcare market is continuously driven by increasing investments poured into the development, testing and commercialization of blockchain projects. Since the platform has widespread applications in nearly all major industry verticals, multinational corporations are undertaking key pilot programs in the field while venture capitalists are providing enormous amounts of funding to startups. Reportedly, in the first three quarter of 2018, crypto and blockchain startups had secured around $3.9 billion in venture capital investments which represented an approx. 280% increase from 2017. Combine this with the incessant development of health services and medical devices, blockchain will soon be implemented throughout the healthcare industry to enhance various functions involved in everyday business operations. 

 
How can blockchain technology improve the security and integrity of drug supply chain?
The vital characteristic of a blockchain platform is the security of transactions it offers, which can be important in drug traceability as well as the overall supply chain management involving pharmaceutical companies, wholesalers and healthcare providers. Ensuring that the information cannot be modified, every new transaction entered into a block is timestamped and unchangeable, which also makes the tracking of products easier. Developing private blockchains to register authentic drugs and allowing access to associated companies would increase their credibility, endorsing the benefits of blockchain technology in healthcare industry.

 
Highlighting the need and significance of blockchain technology in healthcare industry, pharmaceutical manufacturers and suppliers are facing a severe problem in the form of counterfeit drugs market, which is estimated to be around $200 billion worldwide. In fact, 10 to 30% of drugs being sold in emerging economies are counterfeit. This has stimulated the efforts of private companies and government agencies, with the U.S. implementing the Drug Supply Chain Security Act (DSCSA) in 2013 to guide the development of interoperable electronic systems for identifying and tracing prescription drugs being distributed in the country.

 
Not surprisingly, the sector has turned towards blockchain to build systems meeting the DSCSA requirements and over the past couple of years, several projects have been lined to address the gap between demand and availability of the technology.

 
The MediLedger Project, hosted by a supply chain solutions provider, is apparently a verification system to offer a secure and synchronized way for managing a directory of Global Trade Item Numbers. Powered by blockchain, the DSCSA-compliant system does not require individual wholesalers to handle huge volumes of manufacturer details and product lists. This will save costs considerably, besides reducing errors involved in traditional management of data.

 
TraceLink, a firm backed by Goldman Sachs which manages a digital pharmaceutical supply network, has developed a blockchain pilot to meet the requirements of DSCSA. The solution is aimed at making drugs traceable by way of serialization, to make sure an identifier is there on every package and their history can be traced. All participants in the supply chain would interoperate for the system to work, and only information necessary to verify trace requests will be released.

 
Aforementioned examples demonstrate the efforts being undertaken to expand blockchain technology in healthcare industry and the growing investments to foster crucial projects having potential to curb drug counterfeiting. In essence, the key issue with counterfeit drugs is not that they are fake, but they could consist incorrect substances and be made up of wrong amounts of necessary ingredients which ultimately harms consumers.

 
Enumerating developments made by leading competitors to deploy blockchain technology in healthcare market
In 2018, tracing and serialization solutions provider Adents teamed up with Microsoft for creating a new unit level product tracking and tracing platform powered by artificial intelligence and blockchain technologies. Developed using Mircrosoft's Blockchain Framework based on Azure Intelligent Cloud platform, the Adents NovaTrack enables end-to-end visibility and trackability across the complete supply chain. The initiative was supposedly encouraged by the vast quantities of counterfeit pharmaceuticals being sold, said to account for nearly 10% of all pharma sales globally.

 
Another player offering security in supply chains, FarmaTrust, is looking to advance blockchain technology in healthcare industry and in November last year, confirmed a partnership with the government of Mongolia to tackle the problem of fake drugs. The alliance was aimed at launching FarmaTrust's track and trace project for the pharmaceutical segment, powered by the distributed ledger technology, to help protect lives by eliminating counterfeit products. The project clearly indicates the development of countermeasures in emerging economies, where the most amount of fake drugs are sold.

 
Evidently, the supply chain ecosystem in the drug industry has long been susceptible to deception and fraud, comprising the lives of millions of people and causing billions of dollars in losses for pharmaceutical manufacturers. As the distributors, pharmacies, laboratories and hospitals form critical parts of the supply chain, a secure and decentralized records system would help synchronize systems to better track drug movement and offer total transparency to the stakeholders. Subsequently, the blockchain technology in healthcare industry will witness accelerated growth over the coming years, propelled by the surging demand for pharmaceutical products and constant innovations in the medical field.

 
Global Market Insights, Inc. has a report titled, "Blockchain Technology in Healthcare Market Size By Application (Data Exchange and Interoperability, Claims Adjudication and Billing Management, Drug Supply Chain Integrity, Clinical Trials, Cyber Security and Internet of Medical Things), By End-use (Pharmaceutical Companies, Healthcare Payers, Healthcare Providers) Industry Analysis Report, Regional Outlook (U.S., Canada, UK, Germany, France, Spain, Estonia, Switzerland, China, Japan, India, South Korea, Singapore, Australia, Brazil, Mexico, Israel, South Africa, UAE), Application Potential, Price Trends, Competitive Market Share & Forecast, 2019 – 2025" available at https://www.gminsights.com/industry-analysis/blockchain-technology-in-healthcare-market