In conjunction with World Pneumonia Day which was held on 12 November 2020, Etiqa Philippines, in its constant pursuit to Make The World A Better Place, has distributed free 6-months coverage for pneumonia related hospitalization expenses, including those caused by Covid-19, to the Philippine National Police's (PNP) 28,000 strong police force, through the Company's innovative E-ZY Pneumonia Plan. The plan covers up to P50,000 worth of room/ board and general hospital services and up to P10,000 accidental death and dismemberment benefits to the insured.
With this, Etiqa Philippines hopes to help mitigate any anxieties that police officers might have for their health and well-being, and to provide peace of mind for providing protection to our citizens, as they face not only common criminal threats, but also put their health and lives on the line with the continuing pandemic.
This program, which was spearheaded by Ms. Diana binti Mohamad, was borne out of the company's continuing advocacy for the community: "Our previous CSR initiative involves the donation of much needed PPE sets to our medical front liners from major hospitals across Metro Manila. Now, we express our solidarity with the country's PNP front liners by providing them with financial protection from medical expenses should pneumonia strike. We believe that the Filipino people can always rise to the occasion during times of difficulties with the help of their fellow citizens."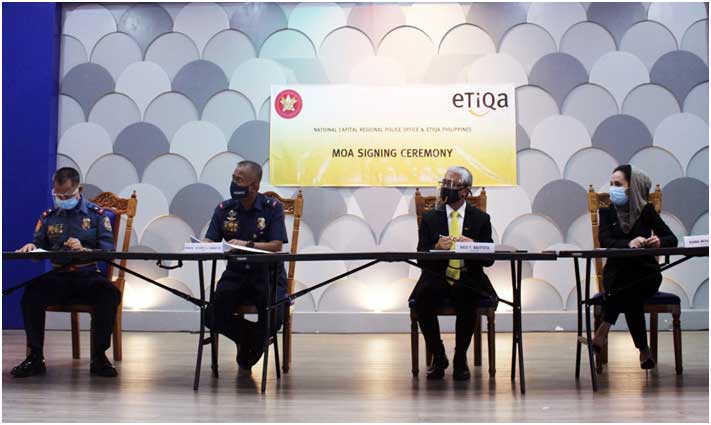 On 18 November, 2020, a formal signing of the memorandum of agreement was held at the Hinirang Hall, NCRPO Regional Headquarters at Camp Bagong Diwa, Taguig City. This event was led by Etiqa Philippines' President and CEO, Mr. Rico T. Bautista; Executive Vice President and head of Strategic Division, Ms. Diana binti Mohamad; newly appointed Regional Director of the PNP's NCRPO, Brigadier General Vicente Danao Jr. and Southern Police District Director PBGEN Emmanuel Peralta.
During the signing ceremony, Brigadier General Danao expressed his thanks to Etiqa Philippines: "On behalf of the Philippine National Police, particularly the NCRPO, we would like to express our utmost gratitude to our benevolent friends from Etiqa for sponsoring this insurance coverage for our police force for 6 months. This would be of great help to our front liners, especially so as the NCR remains under GCQ from the pandemic."
Mr. Rico T. Bautista reiterated the company's commitment to the PNP: "As society confronts the realities of the current pandemic, our police plays an ever more important part in protecting our communities during this stretch of quarantine. In the spirit of bayanihan, we want to show our appreciation to them by offering coverage for one of the most common complications of severe COVID-19. We hope that this allows them to carry on their important work while lessening their worries from any unforeseen medical needs."
Etiqa Philippines embodies the spirit of Humanizing Insurance through employee volunteers, CSR programs, and commitment to give back to community and country with initiatives such as this.