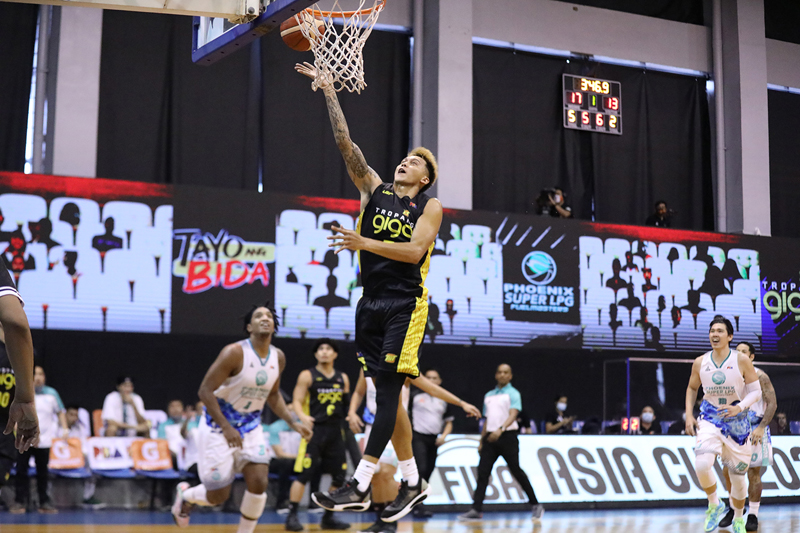 By Michael Angelo S. Murillo
The TNT Tropang Giga booked a spot in the finals of the PBA Philippine Cup following their 91-81 victory over the Phoenix Super LPG Fuel Masters in their semifinal rubber match on Friday at the Angeles University Foundation Sports Arena in Pampanga.
The steadier team throughout the match, TNT frustrated Phoenix on its way to barging into the championship of the Philippine Basketball Association All-Filipino Cup, where it was last in seven years ago.
Ray Parks Jr. led the way for the Tropang Giga in the win, churning out all-around numbers of 26 points, 10 rebounds and six assists.
The contest got off to a competitive start, with the teams knotted at 10-all midway into the opening quarter, before TNT sprinted to build a 25-20 lead at the end of the first 12 minutes.
Advertisement
In the second quarter, offense tapered off a bit as defense was stepped up by both ends.
The score was at 40-34, in favor of the Tropang Giga, at the halftime break.
Phoenix tried to make its move in the third period, led by Calvin Abueva, but still found the going tough with TNT ready for everything its opponent threw en route to padding its lead to nine points, 62-53, heading into the final canto.
The Tropang Giga went for the jugular early in the fourth quarter, stretching their advantage to 16 points, 83-67, with 3:26 to go.
The Fuel Masters tried to make a last-ditch attempt to salvage the victory after, but could only come to within eight points, 89-81, with 32 seconds to go before TNT went to close things out.
Guard Simon Enciso finished with 12 points to backstop Mr. Parks, with Roger Pogoy, Jayson Castro and Jay Washington each adding 11 markers.
For Phoenix, who came just a win away from making its first-ever PBA finals appearance, it was Mr. Abueva who led with 23 points, 13 rebounds, six assists and three blocks.
Matthew Wright had 13 points with Jason Perkins tallying 11 points and 11 boards. TNT was awaiting its opponent in the finals between the Barangay Ginebra San Miguel Kings and Meralco Bolts, who were to play in their own semifinal winner-take-all later on Friday.
The best-of-seven PBA Philippine Cup finals begin on Sunday, Nov. 29.