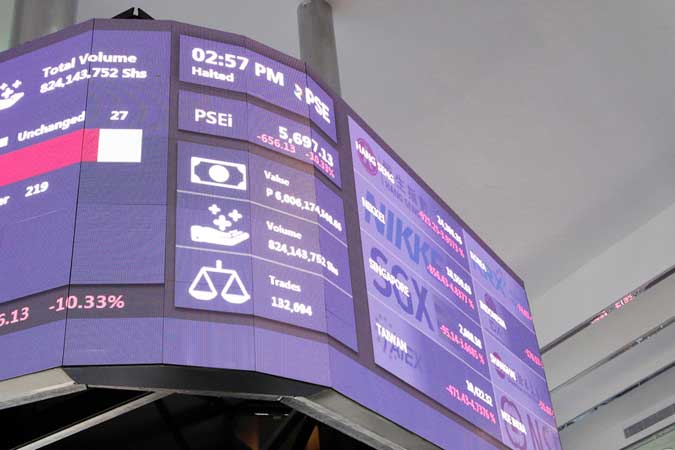 PHILIPPINE SHARES are expected to go sideways after a one-day trading break as investors will assess the impact of renewed tensions between the United States and China on the market.
On Monday, the 30-member Philippine Stock Exchange index (PSEi) improved 69.11 points or 0.96% to close at 7,203.67, while the broader all shares index climbed 35.68 points or 0.83% to 4,286.05.
The market was closed on Tuesday in observance of the Feast of the Immaculate Conception of Mary.
Timson Securities, Inc. Head of Online Trading and Trader Darren Blaine T. Pangan said in a mobile phone message that the benchmark index may be affected as investors weigh the ongoing tensions between the US and China.
"As investors may be assessing how the US-China tensions may play out over the short-term, the index may trade sideways, especially that the market is currently trading near its immediate resistance at the 7,200 level," Mr. Pangan said.
Advertisement
The United States on Monday imposed financial sanctions and a travel ban on 14 Chinese officials over their alleged role in Beijing's disqualification last month of elected opposition legislators in Hong Kong, Reuters reported.
The sanctions prohibit the 14 individuals and their immediate members from traveling to the United States. Any assets the officials might have within the United States will be blocked and US individuals and companies will be banned from dealing with them.
Diversified Securities, Inc. Equity Trader Aniceto K. Pangan said the market might also move sideways following the release of faster-than-expected inflation data.
"The overbought condition of the market with the recent uptick in inflation rate at higher than estimate may dampen the sentiment," Mr. Pangan said in a mobile phone message.
The overall year-on-year increase in prices of widely used goods accelerated to its fastest pace in 21 months in November, the Philippine Statistics Authority (PSA) reported on Friday.
Preliminary PSA data showed headline inflation at 3.3% last month, picking up from 2.5% in October and 1.3% in November 2019.
The latest inflation result was the fastest pace in 21 months or since the 3.8% reading in February 2019. It also matched the 3.3% print in March 2019. Year to date, inflation settled at 2.5%, still within the central bank's 2-4% target.
AAA Southeast Equities, Inc. Research Head Christopher John Mangun said the PSEi may retreat in the next trading session as selling pressure has picked up.
"But a successful break above this level will encourage more bullishness. Investors remain optimistic that business activities continue to pick up due to increased government and consumer spending this month," Mr. Mangun said in a mobile phone message.
"Immediate resistance is 7,263 with next resistance at 7282 while immediate psychological support is 7,000 with major support at recent low of 6,740," Diversified Securities' Mr. Pangan said. — Revin Mikhael D. Ochave
Advertisement