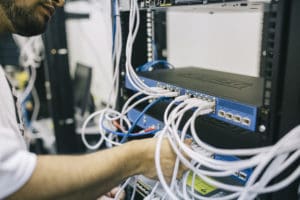 Is your business still not on the cloud? If so, why not? It may be because there are a few myths and misconceptions surrounding the cloud stopping you or your management team from taking the plunge.
Moving into 2021, there couldn't be a better time to make the move with the ability to smoothen operations, protect data, boost productivity, improve business flexibility and scale the business up for less.
It's never been easier to move a business to the cloud with platforms like Microsoft Azure, Amazon Web Services and Google Cloud. When combined with various collaboration tools, these platforms can quickly boost a business's productivity and connect employees like never before.
The pandemic has forced a lot of businesses to move to the cloud over the last 12 months. If you're still unsure, here are the three most common myths about the cloud, debunked.
1. Cloud Migration Is Too Complex
Cloud service providers help with migration every step of the way and are well experienced in making the process as seamless as possible. Optimising IT, for example, are well-known for their transition capability.
They can help your IT team with anything from firewall configurations to migration planning and delivery. There's no one way to migrate and often, the service provider will help you choose the right path for your business.
All the major providers include online tools that help guide you and troubleshoot any issues. Some even have a live chat available for instant help with anything you need.
2. We'll Lose Ownership and Control over Data and Security
You will still retain full control over your data and security when working via the cloud. Some cloud platforms or 'ecosystems', like Microsoft 365 now offer class-leading security capability and can provide better protection than the on-premise equivalents of old.
Central management and automated security and software updates will also reduce IT team overhead and enable them to focus on adding true business value, rather than focussing on running 'the tin'.
Servers up until now have been a significant drain on a company's bankroll. Usually, as the business scales up, more servers need to be added and maintained, costing more money. The cloud, however, gives you access to your Cloud provider servers so you can scale up and down as much as you like without any need to add and remove servers as you do.
Some people believe keeping data on-premises is safer, but it is increasingly becoming clear that it is not. The majority of security leaders have said that data stored online is safer than on-premises and that companies don't even realise when they've been hacked when data is kept on site.
3. The Constant Updates Interfere with Business and Disrupt Business Applications
It would be lying to say the cloud works perfectly with zero disruptions to businesses, but this is sensationalised by many. Cloud software from Microsoft and Google is highly reliable, and the bad old days of software updates causing issues is long since gone. The level of compatibility with business-critical apps is always improving as providers continue to work hard with app providers to offer enhanced integration.
Cloud service providers will give your business lots of guidance and information on compatibility. For example, Microsoft provides software vendors with tools and early access, so Office-friendly solutions continue to work on Microsoft 365 smoothly and with minimal issues.
2021 will be the most interesting year to date for the cloud as an increasing number of businesses join to keep operating despite the disruptions caused by the pandemic. We're moving into a new way of doing business, one that's likely to focus on a hybrid system combining both in-office and remote staff working together in a virtual environment. For this, having a secure, seamless platform to work from regardless of location is key.
Read more:
3 myths about your business using cloud services – debunked