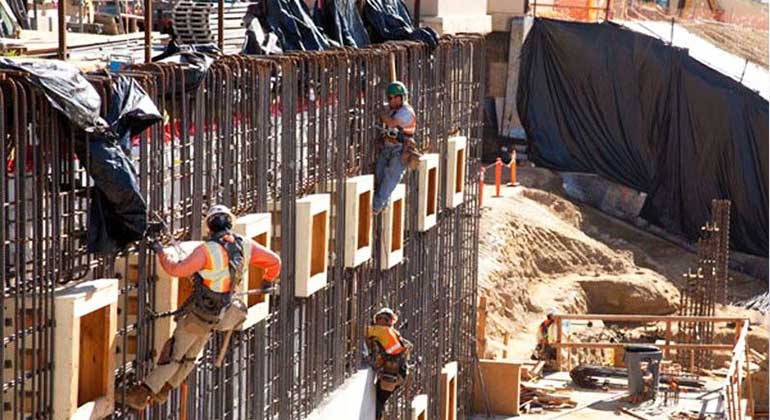 THE RECOVERY this year will likely be slower than expected due to a delayed pickup in construction activity, according to a joint report issued by First Metro Investment Corp. (FMIC) and the University of Asia and the Pacific (UA&P).
"We have turned more cautiously optimistic about a quick economic recovery in 2021 as institutional/structural factors would likely slow down the rebound, even though the industry will shine," FMIC and UA&P Capital Markets Research said in its Market Call report released Tuesday.
The construction sector will likely remain a laggard in the first half, with small contractors still struggling financially while demand remains muted, it said. Activity is expected to pick up in the second half ahead of the 2022 national elections.
"Construction will likely make a dent in Q2, even as infrastructure spending remains hampered by financial problems of small to medium sized contractors, but should gain traction in H2 as Presidential elections come closer," it said.
Last year, the construction sector contracted by 26% year on year, helping pull down gross domestic product (GDP) for the year to minus 9.5%.
Advertisement
Infrastructure spending fell 22.7% from a year earlier to P681 billion in 2020, according to preliminary data cited by government officials.
"For private construction, more widespread work-from-home arrangements and restrictions have (led to) a sharp rise in vacancies. Residential condominiums have lost some appeal in favor of house-and-lot units farther away from dense workplaces," according to the report.
It noted the recent uptick in manufacturing could support a faster recovery, but even this sector will take time to recover because of disrupted supply chains.
The Philippine Manufacturing Purchasing Managers' Index in February was unchanged at 52.5, but above the 50-point level that separates growth from contraction. The reading was the highest in over two years or since the 53.2 in December 2018.
"This will be positive for employment generation since the sector's output has high multiplier effects," FMIC and UA&P Capital Markets Research said.
The government targets GDP of between 6.5% and 7.5% this year. Acting Socioeconomic Planning Secretary Karl Kendrick T. Chua said the economic team is currently reviewing the forecast as lockdown restrictions have dragged on longer than expected.
"The inflation rate spike in the last few months may still be considered transitory, albeit longer than usual. Supply-side concerns due to supply chain rebuilding, LGU- (local government unit) dictated lockdowns and approvals, and the recent surge in crude oil prices as the world economy seems to recover faster will keep inflation (in line with the) central bank's forecast 4% for 2021," according to the report. — Beatrice M. Laforga
Advertisement