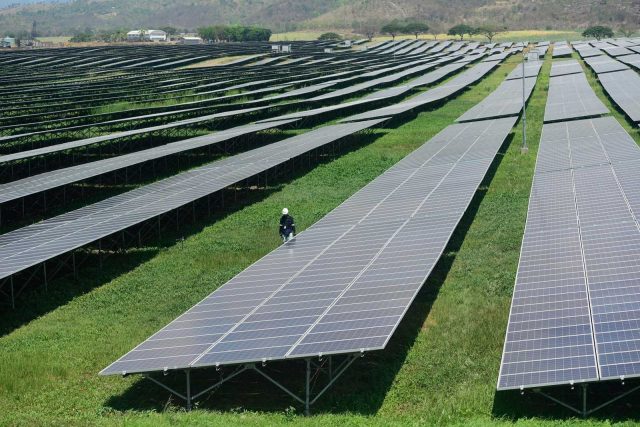 By Angelica Y. Yang, Reporter
ABOITIZ Power Corp. said that it plans to use its existing Cleanergy portfolio and other renewable energy (RE) projects in the pipeline for the country's green energy option program (GEOP), its top official said on Wednesday.
"For GEOP, we intend to use our existing Cleanergy capacities from our hydro, geothermal, and solar assets. We also have more renewable energy projects in our pipeline that we can allocate to GEOP and even to other RE markets like GEAP (green energy auction program)," AboitizPower President and Chief Executive Officer Emmanuel V. Rubio told BusinessWorld through the firm's media relations department in an e-mail on Wednesday.
He said that the firm aims to build and serve the Philippines' RE market through its existing and future Cleanergy capacities and technologies.
Cleanergy is AboitizPower's brand for clean and renewable energy. By the end of 2020, the portfolio accounted for 21% of its power generation portfolio, while its thermal capacity accounted for 79%.
Mr. Rubio earlier shared the group's aspirational target of a 50-50 mix of Cleanergy and thermal capacities in the next 10 years.
In a separate e-mail on Wednesday, the firm's communication team confirmed to BusinessWorld that the company intends to use over 1,240 megawatts of its existing Cleanergy portfolio for the GEOP.
This comes shortly after the Department of Energy (DoE) declared three of the AboitizPower's retail electricity suppliers (RES) — Aboitiz Energy Solutions, Inc.; Prism Energy, Inc.; and Adventenergy, Inc. — as eligible to participate in the GEOP.
The program is a voluntary policy mechanism that allows users consuming at least 100 kilowatts of power to source their supply from eligible RES that source power from renewables.
Companies that wish to participate in the GEOP need to first secure an operating permit from DoE. Those holding permits may supply power to end-users, based on a department circular issued in April last year.
In January, the Energy department announced the first batch of firms that qualified for the program: Bacman Geothermal, Inc.; First Gen Energy Solutions, Inc.; SN Aboitiz Power-Magat, Inc.; SN Aboitiz Power-Res, Inc.; AC Energy Philippines, Inc.; and Sparc-Solar Powered Agri-Rural Communities Corp.