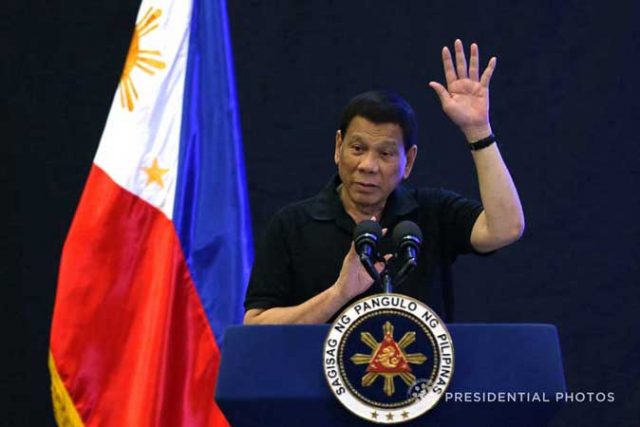 SENATORS on Tuesday slammed President Rodrigo R. Duterte's statement that he was only joking about his promised action to protect the country's claim on the West Philippine Sea during his campaign.
In another development, retired Senior Associate Justice Antonio T. Carpio called on Mr. Duterte to retract his recent pronouncements relating to the West Philippine Sea and China to ensure that it does not become binding as policy.
Senator Panfilo M. Lacson said the presidency is "no joking matter" and that the president should not make confusing statements on national policy.
"I think the presidency is serious business. Paghinaluan mo ng joke and hindi na alam ng tao kung biro o totoo o seryoso…may mga implication 'yan (If you mix in jokes and people can no longer tell what's said in jest or in seriousness… there are implications)," he told an online briefing.
He noted that the President's statements would also have implications with other government bodies. It would also "diminish" the strong message of other officials on the issue in the South China Sea.
"Whatever strong policy statement" that comes from the secretaries of Defense and Foreign Affairs, the senator said, gets overridden by what the President says.
Senator Risa N. Hontiveros-Baraquel, in a statement, questioned where Mr. Duterte's "bravado" is when it comes to China.
"No country, not even his best friend, will take us seriously when we have a leader who cannot honor his word," she said.
In a campaign forum for the 2016 election, Mr. Duterte said he will ride a jet ski and carry the Philippine flag in its territory in the South China Sea when asked by a fisherman on the issue.
On Monday, the President said that statement was a "pure campaign joke." He also called those who believed him "stupid."
Ms. Hontiveros said the South China Sea issue is no laughing matter, noting that the Armed Forces of the Philippines, Philippine Navy, Philippine Coast Guard, and Bureau of Fisheries and Aquatic Resources are patrolling the area where Filipino fishermen source their livelihood.
"Huwag niyang gawing punchline ang mismong buhay at hanapbuhay ng mga Pilipino (He should not make a punchline out of the lives and livelihood of Filipinos)."
Senator Leila M. de Lima, in a separate statement, said the President's remark affirmed that "he really has no plans to invoke our sovereign rights over the West Philippine Sea."
"Duterte's campaign in the 2016 elections was waged on pure gimmickry with no solid program of government on which to anchor his outlandish promises that's why all we can hear now are his excuses why he cannot execute. And he even has the gall to call those who believe in his campaign promise as stupid. Classic Duterte!," she said.
CARPIO
Mr. Carpio, meanwhile, warned that "if the President does not retract these statements that he made publicly, then he knows that these statements could bind the Philippine government under present and future administrations."
He was referring to Mr. Duterte's statements that "China is in possession of the West Philippine Sea," that "Chinese fishermen can fish in the exclusive economic zone of the Philippines in the West Philippine Sea," and that the arbitral award of July 12, 2016 is a "scrap of paper to be thrown into the waste basket."
"Now that the President acknowledges that what he says could bind the government, under the present or future administrations, then he must now retract the… statements," Mr. Carpio told reporters on Tuesday.
The former Supreme Court justice cited that Mr. Duterte's reason for backing out from a debate between them that he himself initiated is that his "answers might be taken as policy statements, and I might affect the future actions of the government when it comes to the West Philippine Sea." — Vann Marlo M. Villegas and Bianca Angelica D. Anago