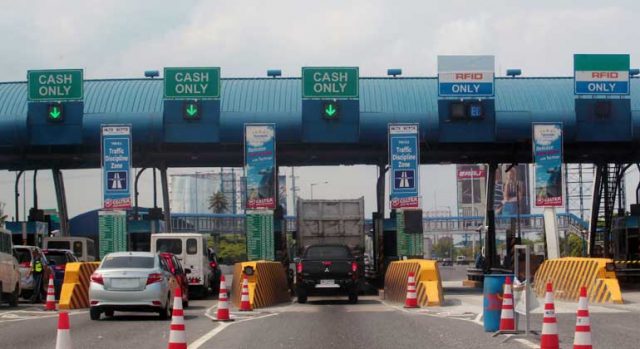 NLEX Corp. said it is testing an automatic license plate recognition system at its 25 toll lanes in Valenzuela City, partly to identify erring motorists who use cashless lanes without radio-frequency identification (RFID) stickers or with insufficient load balance.
"The system uses smart cameras which are capable of reading vehicle license plates and are useful for matching transactions, improving safety, and enforcing traffic laws," the tollway company said in an e-mailed statement on Wednesday.
The system is designed to facilitate easier matching of motorists' entry and exit transactions, it noted.
"It also helps in identifying vehicles passing the RFID lanes without RFID stickers, as well as those with insufficient balance, and vehicles that pose potential safety issues."
The company is keeping its toll barriers up at Mindanao, Karuhatan, and Paso de Blas toll plazas.
To recall, the Valenzuela City government suspended the business permit of the tollway company in December last year over the heavy traffic caused by the implementation of its cashless toll payment system.
Valenzuela City Mayor Rex T. Gatchalian lifted the suspension after both parties agreed to keep the toll barriers up on all lanes for vehicles with RFID stickers.
Data transmission between the toll collection and Easytrip systems has been reduced from an average of 45 minutes to less than five minutes after "upgrades," according to the tollway company.
"Aside from infrastructure building, we are also persistently working on digitizing and automating our business processes. We are continually adjusting our systems so we can provide a more efficient service to our motorists and afford them ease of travel," NLEX President and General Manager J. Luigi L. Bautista said.
NLEX Corp. is under Metro Pacific Tollways Corp., the tollways unit of Metro Pacific Investments Corp., one of three key Philippine units of Hong Kong-based First Pacific Co. Ltd., the others being Philex Mining Corp. and PLDT, Inc.
Hastings Holdings, Inc., a unit of PLDT Beneficial Trust Fund subsidiary MediaQuest Holdings, Inc., has a majority stake in BusinessWorld through the Philippine Star Group, which it controls. — Arjay L. Balinbin